Hey, I'm Angie!

Here is my 1st vlog on living  with a bleeding disorder as a female! Women don't really get the limelight within the bleeding disorders community and that needs to change, whether you are a female with Hemophilia, VWD, or any other factor deficiencies.
Here are some things I have learned from my First Time experiences with Hemophilia.
About The Author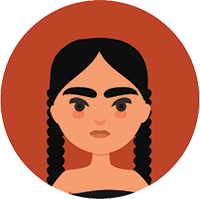 angies.adventures
Hey! I'm Angelica, but you can call me Angie!
Adventurous and Geeky (ENFP). Oh! I'm also a Musical Theatre Major.
I have mild hemophilia A, or as the male part of the community would say, I am a carrier.
Im just another hemophiliac trying to spread some positivity in the world.
I still have a lot to learn as I adventure through life. But there is one thing I know for sure, and it's that us as women, we must have each others backs.

IG: @angies.adventures FB: Angelica Puentes
More From This Author
You May Also Like

Welcome to Mental Health Awareness Month!
…
Comments (0)
Appreciates (1)