An Open Letter to mothers, daughters, sisters, and partners...my superheroes of World Hemophilia Day!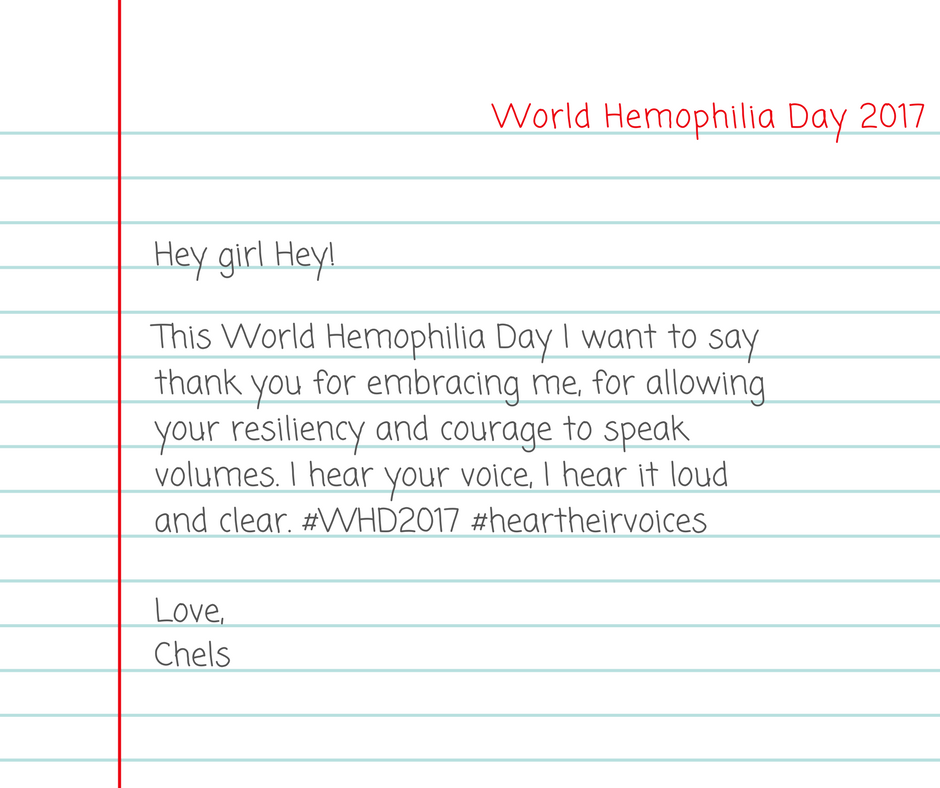 Hey girl hey!  
It's been about a year since I began my journey. Sooo the whole point is for us to share our story, so I figure as the one who manages V4W you should probably know a bit about me. Here it goes…  
What started as an internship morphed into a commitment to continue to learn as much as I can and be of use and assistance to all women and girls in the community. To be honest, when I first started my internship I felt like a fish out of water, I had so many questions but held back asking them for fear of saying the wrong thing. As time went on, I saw how open you were to hearing me out and teaching me not only about bleeding disorders but also sharing your own experiences. Then, at my first Annual Meeting last year is when it really hit me, that it is by no accident that I'm here. Listening to your story was one of the most powerful lessons of what being a strong woman and genuine encouragement looks like and how living life authentically resonates positive energy.   
Which brings me to this positive energy I want you to be able to experience with women and girls in OUR community outside of annual meetings, and chapter events. I truly want Victory for Women to feel like home for you, well a virtual home. And totally no pressure, whenever you are ready, I hope we can converse and grow together as a online community. I hope this to be a place we can all look to, for encouragement, a laugh, a space to have other women to relate to.    
 I want you to know that I truly draw strength from your story. I draw strength from the young lady in college who optimistically taught me all about her advocacy work, to the mother who took me under her wing  at Washington Days and showed me what a true fighter looks like, to the nurse who clearly has a knack for working with young girls in Atlanta, and the kind hearted nurse consultant from Miami who facilitates NHF workshops. I recognize that you and every woman and girl are champs and I'll be working with you to continue to raise awareness and provide education on behalf of women and girls in our community.   
This World Hemophilia Day I want to say thank you girl for embracing me, for allowing your resiliency and courage to speak volumes. I hear your voice, I hear it loud and clear. #WHD2017 #heartheirvoices   
Love,   
Chels   
About The Author
You May Also Like


Have you checked out Victory for Women's Resource tab? This section of the…
Comments (0)
Appreciates (1)