Inspirational Women: Maya Angelou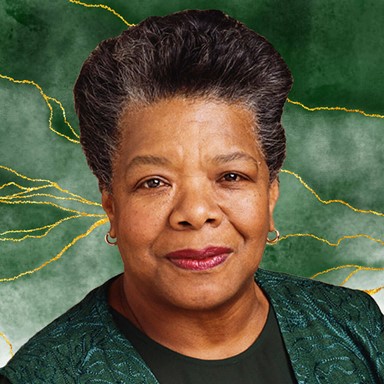 Hi everyone – Happy February and Happy Black History Month! Today I want to add to the "Inspirational Women" series by talking about Maya Angelou.
Maya Angelou was a poet, author, activist, and scholar born on April 4, 1928 in St. Louis, Missouri. Angelou's literary journey began in Cairo, Egypt in the early 1960s, where she was the associate editor of a paper called The Arab Observer. She also spent some time in Accra, Ghana, writing for The Ghanaian Times before returning to the United States to write her timeless memoir titled, I Know Why the Caged Bird Sings. This autobiography focused on her childhood years and highlighted her strength through her experiences with childhood trauma and racism. The book, released in 1969, went on to make literary history as the first nonfiction best-seller by a Black woman. Throughout her illustrious career, Angelou wrote seven autobiographies, three books of essays, and over 150 poems.
One of my favorite things about Angelou is that she was a woman with varied passions and talents. In addition to the four descriptors I used when introducing her earlier, she was also a skilled singer, dancer, and the first Black woman to have her screen play turned into a film. She even received a Tony nomination in 1973 for her role in Look Away. This diverse array of interests and talents shone through in her writing as well. Angelou was well known for her thought-provoking writing on identity and the experiences of marginalized identities, including topics like racial oppression, intersectional feminism, and familial bonds. Her expertise in a range of topics and her conversational writing style allowed so many around the world to resonate with her work. Angelou and her powerful words had a way of providing comfort to multiple generations of people and will, undoubtedly, continue to inspire future generations.
Maya Angelou died in 2014 and left behind a legacy full of distinguished achievements and success. Admired and respected by all, Angelou shared her personal story in a time when Black women's stories were often ignored. This simple act encouraged so many others to follow in her footsteps and find the courage to share their stories as well. Maya Angelou has also always been an inspiration to me for fighting for what she believed in. Her writing and her activism are unapologetic, bold, and empowering. She stood up for the voices of those who were always left out of the conversation, and this radiated through both her words and her actions.
"I'm convinced of this: Good done anywhere is good done everywhere. For a change, start by speaking to people rather than walking by them like they're stones that don't matter. As long as you're breathing, it's never too late to do some good."

-Maya Angelou
About The Author
You May Also Like


Have you checked out Victory for Women's Resource tab? This section of the…
Comments (0)
Appreciates (1)