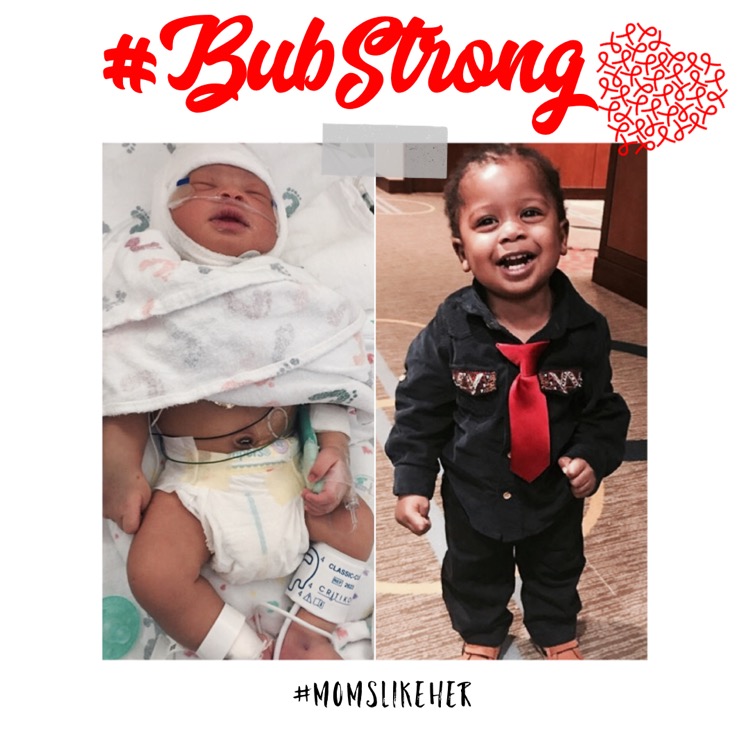 Posted on behalf of community member Jo Funderburk, Founder of Moms Like Her. 
"Please be a boy, please be a boy, please be a boy…" during the early days of my pregnancy with Bub, that was the silent prayer that I'd recite daily. I'd sit at my work desk, cradling my stomach and repeat those words in my head over and over. Looking back; I now realize that it was a selfish prayer. I probably should've just been asking God for a healthy baby and not worried about the sex. But with everything that I had just endured, my desire for a son was overwhelming. I needed this dream to come to fruition.
This was my second pregnancy. Eight months prior, I lost my first son Bryant; due to a premature birth. I had been diagnosed with an incompetent cervix and it caused me to go into preterm labor; just shy of five months pregnant. It was a sudden, unexpected and devastating loss. Still heartbroken, I felt like the only thing that could pull me out of that dark place would be the son that I had so desperately yearned for. So, when my doctor confirmed that I was indeed carrying another boy at my 16-week checkup, I was ecstatic. I cried tears of joy and thought that although my pregnancy was high risk, the stress and anxiety that I was experiencing would soon become a distant memory.
I was so wrong.
Bub was born on July 4, 2016 via c-section. As soon as my son was placed in my arms I felt complete. I was finally a mom and relished in that moment. I was in a lot of pain, but the fact that he was here and healthy made it all worth it. Our first day together was glorious. We nursed a lot, slept a little, took a million pictures and began skin to skin bonding. I was on cloud nine.
Trouble didn't show up until day three. It started with his circumcision. His dad and I had actually gone back and forth over whether or not we wanted to do it but ultimately decided to go for it. His doctors ensured us that it was a quick and easy process and that he would feel minimal discomfort. They whisked him away to do the procedure and he was brought back into our room about 45 minutes later. If all went well, we were supposed to be discharged the following afternoon. We mostly slept for the rest of the day and it wasn't until later that night that we first noticed a problem. Bub's dad went to change his diaper and it was soiled with blood. We knew to expect a little bleeding due to the circumcision, but this was way more than a little. The entire inside of his diaper was a bright, crimson red. Bub's dad yelled for the nurse and she came rushing in. After taking one look at his diaper she gasped and paged the doctor. Everything happened so fast and, in an instant, our lives were changed forever.
Hemophilia was never on my radar. I guess I was so consumed with the circumstances surrounding my pregnancy and the fact that Bub was my rainbow baby, I didn't even consider the possibility of my child inheriting a genetic disease. My first cousin has hemophilia, but he lives in Georgia. Growing up, we never really went into detail about his diagnosis and what it meant. All I knew was that it was a blood disorder and that he couldn't play contact sports or else he'd get hurt really badly.
The moment Bub's doctor came into the room he began to question me about my family history. He asked me if it was a possibility that I could be a carrier of the hemophilia gene and I told him that I had no idea, I had never even been tested for it. Meanwhile, Bub had already been taken to the NICU and doctors were frantically trying to stop the bleeding which had gotten much worse. They tried everything from stitches to silver nitrate… but he bled through it all. Finally, they decided that he needed to be transported to Johns Hopkins Children's Hospital because they were better equipped to treat high risk patients. But before he could even get transferred there, he had a seizure.
As all of this was going down, I honestly thought that I was going to die from an anxiety attack. I was on an emotional roller coaster and I couldn't figure out why God would allow for so many traumatic experiences to occur in my life back to back. I had barely recovered from the death of my first son and here I was again, faced with that same possibility. I couldn't even process everything that was going on and at one point I mentally checked out. I don't know if it was the narcotic pain meds or the mental trauma that I was enduring but everything just went blank.
The next few days felt like a never-ending nightmare. My son was transferred to Hopkins and admitted into the NICU unit. Doctors put him under a medical sedation and over the course of four days he underwent a blood transfusion, an MRI and an EEG to monitor his brain activity. They formally diagnosed him with Severe Hemophilia A and gave his father and I a crash course on what having the disorder meant.
In laymen's terms, my son is missing a clotting gene in his blood. This means that the slightest injury or cut could cause him to suffer and bleed severely. It's a lifelong disorder and as of today, there is no cure. The only way to treat it is by injecting him with a lab-made clotting factor three times a week and after every major fall or injury. Hemophilia is an X-linked genetic disorder, which means that it's passed from mother to son on the X chromosome. Since I did not know that I was a carrier, I indirectly passed the disorder to him.
Hearing his doctor explain all of this to us was a lot to take in. I was consumed with guilt and I just remember crying until I felt numb. Even though I had no way of knowing that this would happen, I still felt like everything was my fault. After spending one long week in the NICU, we were finally cleared and discharged. And while that nightmare ended, real life had just begun…
That was almost two years ago. Since then, we've certainly had our share of ups and downs but overall, my son is thriving. He is incredibly smart, extremely active and the biggest flirt ever. We've been blessed enough to connect with some wonderful families via social media and through our local Hemophilia chapter, who are raising sons with the disorder as well. Thankfully, he has had no seizure activity since that day in the NICU. He got a port placed in his chest back in November (read about that experience here) and it's made our lives so much easier. Prior to him getting the port, we would have to travel to the hospital 2-3 times a week for his treatments to be administered intravenously. It was a grueling process for me and a painful process for him. Now that he has the port, I can administer all his treatments at home and independently.
I have become his advocate and he is my hero.  In his short time here, my son has already taught me so much about life. He is a shining example of bravery, resilience and strength. I pray that by being so transparent and sharing our story, we are able to help another family who may be going through the same thing. Of course, sometimes it does get tough, but through it all we will always remain #BubStrong.
About The Author
You May Also Like


Have you checked out Victory for Women's Resource tab? This section of the…
Comments (0)
Appreciates (1)